AC STORE
"A Brand New Day" (2010) - $12

LIMITED EDITION/SOLD OUT - DOWNLOAD ON ITUNES
"A Brand New Day" is August Christopher's first concept album. An epic that could be titled 'August vs. Supaheat', the band's 3rd studio record tells the story of a man fighting with his alter ego, walking the tightrope of good and evil.
It's no surprise that the album has a slight Christian flavor with the songs "40 Days" and "Brother Jesus", yet still rocks the way AC always has with romps like "Cmon Lil Honey" and "All Alone".
The musicianship on this record is the band at it's best, featuring production and engineering by Todd Rubenstein (TMR Records, Nashville) with hidden tracks and surprises at every corner! The album also features AC's first studio-recorded cover song, "In The Air Tonight" by Phil Collins.
Remaining tracks include 'Leaving Town', 'Just Friends', 'Midnight Summer's Rain' (duet with Memarie Gayle), 'Supaheat', 'All That Matters', 'My Baby' (Remo Twirls), 'Hold On To Me', and 'Brand New Day'. ($12)
-------------------------
"BEST OF" CD (Greatest Hits 1999-2010) - $10

This multi-session compilation album includes 4 new songs from "A Brand New Day" and 7 remastered songs from the band's albums "Album Cover" and "Circles".
The album also has previously unreleased live tracks, pictures, 2 videos, and audio clips from Criss' radio show "Welcome 2 the Big Letdown" (as mp3's). ($10)
-------------------------
"CIRCLES" ($10) - 2006
"Circles" features Criss playing most of the instruments, but also includes Shea Gold, Joel Edwards, William Scruggs, Billy Hendrickson, Steve Sheroan, Chris Clark, and Jay Lessert. Produced by Nathan Schock and Criss Cheatham. ($10)
Black Jesus, Inside Her Head (reprise), Whitney Thorn, Candy Girl, Down (reprise), My Business, I Don't Feel Love, Spread This Love Around, She Says, Turnaround (reprise), My Life, Called 2 Say Goodbye, Close 2U, Burn One Down
-------------------------

CURRENTLY SOLD OUT - AVAILABLE ON iTUNES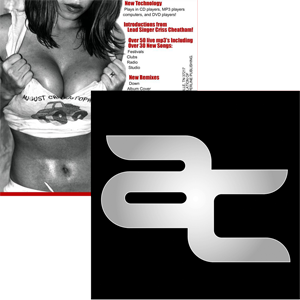 "ALBUM COVER" ($10) - 2003
The band's studio debut with all the original members. This is where all the schtick came from! Contains GRAPHIC CONTENT UNSUITABLE FOR CHILDREN.
The crazy, fun record, back when the band was partying non-stop. Awesome songs, great guitar playing, an overall fun, great album! Produced by Todd Rubenstein. Performed by Jay Lessert, Steve Sheroan, Joel Edwards, and Criss Cheatham.
Album Cover, Inside Her Head, Down, Star, In Style PPG, TMI, Foolish Games, Caller ID, Never Been N Luv B4, Love Child, Turnaround, Fungus Among Us, Bottle of Rage, The Way It Goes, Blood, Change the World
-------------------------
August Christopher white T-shirts
S, M, L or XL ($15)
CURRENTLY SOLD OUT
--------------------------------
"Inside Her Head" black T-shirts
S, M, L or XL ($20)
CURRENTLY SOLD OUT
-----------------------------------------------------------------------
LIVE RECORDS:

ALL LIVE RECORDS ARE SOLD OUT


Live at International BBQ Fest - 2006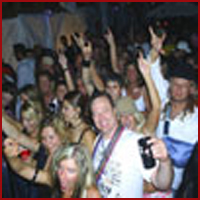 Live at Wall Street (double album) - 2003 (Explicit Lyrics)
Live at Cheapside - New Year's (double album) - 2001 (Explicit Lyrics)
Live at Bell Cove Club - 1999