AUGUST CHRISTOPHER BIO
This is a crazy group!

Criss Cheatham started AC by writing a bunch of songs,
booking a show at Springwater in Nashville with no band and no band
name - contacted Joel Edwards, Chris Clark, and George
Smallwood; and begged them to do a show. After playing the
originals, the group took requests all night, performing songs none
of them knew. Criss made up all the words on the spot and
hasn't stopped 'freestyling' yet. That was in '99...

This group of friends and musicians that have made AC throughout the years
each have had an impact on the direction of the band at some point.

Each member has countless stories about what it's like to
be in AC, yet none of them are pretty...

Criss Cheatham - frontman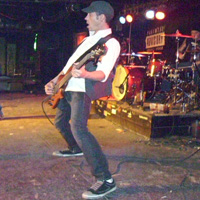 Steve Price - bass
"Where are we playing tonight?"
Steve has been playing bass and guitar professionally for many years, performing in venues across the US. He has made several appearances on local and international television, including TBN, and also played for artists such as Billy Currington and Dottie Rambo. Steve also has his signature on the wall at the famous Gibson Guitar Factory right next to Peter Frampton.
The band would not be a success as a 3-piece if it were not for Steve's melodic bass playing and background vocals. Steve also co-wrote on the upcoming record "A Brand New Day".
Corey Boise - drums
"Criss, you never shut up"
"Sorry, guys, my fiance and I need to go taste cake next Friday..."
Corey has played in rock bands in Nashville for years and really hits hard! He has blazing fast hands and picks up stuff quick; he's been in AC for 3 years.
Corey also teaches the award-winning national drum corps!
As far as that last quote, he'll probably never live that one down... One thing we definitely know, he's NOT from Boise, Idaho.