ACCOLADES

GUINNESS WORLD RECORD
Lead singer Criss Cheatham set the original Guinness World Record for the "Longest Concert by a Solo Artist" (playing over 24 hours straight), raising money and awareness for "Operation Eagle's Nest" (101st airbourne, Fort Campbell, KY).
Cheatham performed over 300 songs in the event and was even given a medal by the US Army for his acheivement (pictured w/his dad Jerry and son Jordan)
Recently, Criss' record was broken by a performer named Jason Beck (27 hours and 3 min). Criss plans to reset the record in the fall of 2010 in Times Square, New York. We will keep you posted!

TELEVISION, MOVIES, PUBLISHING, MUSIC PLACEMENT

FESTIVALS, BENEFITS, SPONSORSHIPS

PERFORMING WITH NATIONAL ACTS

MISCELLANEOUS, BACKING ARTISTS, RELATIONSHIPS
Peyton Turner (from VH1's "Rock of Love" with Bret Michaels). When Peyton performs (pictured above) AC is her band.

Daev C Zen - check the AC cartoon Daev created on his site. He also created the cartoon used on "CC's Virtual Sound Circus"

Naked Cowboy (pictured) - famous from Times Square NY,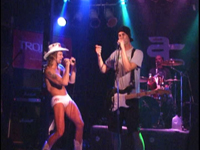 he is signed with TMR Records and jams with AC whenever we are around.

TMR Records

Stephanie Heinrich - Playboy Playmate - Cincinnati, OH Performed with AC at the East End (Cinci)

CDBaby

Bomshel (Curb Records) - Criss' former group

Memarie Gayle - guest performer on the upcoming album "A Brand New Day"
Michael Gough - very good friend of the band and guest performer on "A Brand New Day" - Criss still plays drums with the Michael Gough Group from time to time.
Aljon Go - Local Buzz